Looking For The Best Options To Keep Your Venetian Blinds Clean? Appoint Us!
Captain curtain cleaning Perth offers the best services in making your Venetian blinds clean. As cleaning venetian blinds is a bit tricky, you need to rely on our professional cleaning services. Venetian blinds are known for their efficiency in controlling the amount of light that enters in. And also the amount of dust that gets trapped is high and mandates regular cleaning in order to keep them dirt-less. Using the right cleaning tools and advanced wiping methods, our experts will offer the best services. Cleaning individual slats can be a tiresome job, so get in touch with our experts in order to get the job done. Be it cleaning or vacuuming, we customize the services as per the requirements and will offer great workmanship.
To know more details about our company and to make an appointment, you can contact us at 08 7078 7696. Do reach out to us right away and get the best curtain cleaning services to make Venetian blinds clean.
What Is The Importance Of Getting Our Services To Keep Your Venetian Blinds Clean?
In order to attain great results and experience the greatest range of professionalism, our experts will offer the best services. To meet the needs of our clientele, the specialists are here to perform Venetian blinds cleaning. With several years of experience, our experts are here to offer the right type of services for the blind type. Here is the importance of getting our services:
We constantly make sure to stay up-to-date with the advancements that take place in the industry.
Along with the residential cleaning, we even perform commercial Venetian blinds cleaning. So, it is easy to access our services.
Venetian blinds require proper maintenance as it helps in increasing their shelf life. If ignored, they tend to undergo severe damage.
Be it blind Rehanging or cleaning, our experts will be of great help to you to get the job done. 
Since experts use the right type of cleaning products, it gets easy for us to clean the blinds thoroughly.
How Do We Attain Great Results? Here Is How We Do It!
As per experts, Venetian blinds require annual cleaning services or get professional services once every 6 months. So, hiring our experts is the best option when it comes to cleaning this type of blind. Since they accumulate a lot of dust due to the more horizontal surface area, it becomes significant to clean them using efficient cleaning methods. What is the cleaning procedure with which we can attain great results? Here is how we achieve them:
Inspection: Prior to performing the services, our experts will thoroughly inspect the blinds which will help in curating the best blind cleaning procedure. Once it is done, our experts will generate a report that will aid in making your Venetian blinds clean.
Dusting The Slats: To initiate the cleaning process, our experts will opt for dusting it using the appropriate tools like fluffy or feather dusty. We dust every slat, using a damp or dry cloth depending on the requirement. This is to ensure that there is no dust or dirt left.
Stain Removal: If there are any stains, our experts will now focus on them. This helps in attaining the best results as we use the most effective stain removal agents to get rid of even the sticky stains.
Cleaning: Using the right detergents that are mild yet effective, we clean each slat wiping the dirt outwards. Without any risk of getting scratched, we perform the services with utmost care.
Why Choose Our Cleaning Services For Venetian Blinds?
In order to get rid of even stubborn stains or dirt particles from your Venetian blinds, it is ideal to opt for our professional services. Our professional have Certificate III in Cleaning Operations. But why? There are various reasons for you to choose our company. If you are still wondering about the right reasons to get your blinds cleaned by our team, the following are a few aspects of our company that will help you in opting for our services:
Long-lasting Results: The results that you obtain from our services are quite long-lasting and keep your Venetian blinds clean for longer durations.
Affordable Services: All the services that we offer are quite affordable and are decently priced to make sure that it is going to be light on your pockets.
Hassle-free Booking System: Since our customer care team is available 24/7, it becomes easier for you to book an appointment without any hassles.
Professional Team: With a high degree of professionalism and skills, our team is known for the outstanding results that it has in store to offer.
Prompt Services: We are a renowned company that is quick and prompt at offering services without any delay.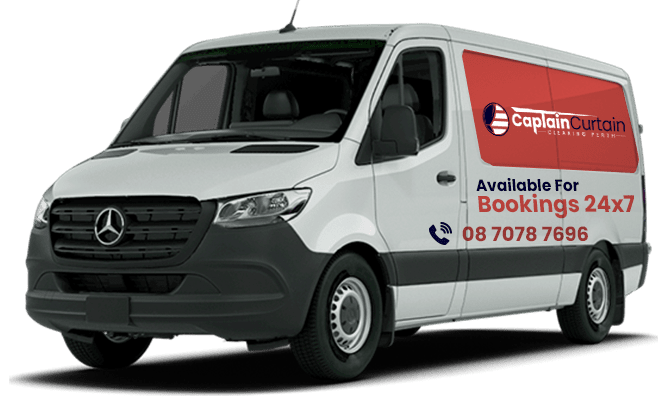 Captain Curtain Cleaning Perth
Location :-
93 Parry St, Perth, WA, 6000, Australia
Hours of Operation : Mon-Sun 6:00 AM – 9:00 PM
Costumers Rating (116)
Reviews
Pocket friendly service
Their curtain cleaning prices are pocket friendly. The service they deliver is extraordinary. I chose to do off-site curtain cleaning. The pickup and installation were very smooth. This is my go-to curtain cleaning service in Perth.
Affordable and quality cleaning
After some horrible experiences, I came across Captain Curtain Cleaning. The services are affordable for the quality they deliver. The whole process was extremely smooth. The cleaning team was extremely professional and polite. I am happy with their service.
Utmost perfection
I chosen Captain Curtain Cleaning after looking at their curtain cleaning reviews. The experts cleaned my silk curtains with utmost perfection. I will recommend their curtain cleaning services in Perth.