Get Rid Of the Musty Odour From Your Curtains Today!
In case you are looking for reliable options to get rid of foul and murky odour from your curtains, Captain curtain cleaning Perth is going to be your best friend. Because our curtain deodorising service has been our clients favourite. Using the most effective deodorisers, our experts will perform the deodorant service. This helps in making your curtains smell and feel fresh. Dealing with musty odour can be a task and is a complete turn-off! So, to avoid that and to get that fresh feeling, you need to rely on our professional assistance. Finding the source of the problem is very important, therefore our experts will inspect it and will find appropriate solutions for it.
To know more about our services, contact us at 08 7078 7696 and make your appointment right away. In case you need further assistance, without any delay contact us right away! Our experts will always be ready to answer your queries.
How Important Is It To Get The Curtain Deodorising Done?
Getting professional curtain deodorizing is extremely important because it has many benefits. As per experts, you are supposed to get professional deodorizing services regularly, in order to maintain them odourless. But attaining this can be a difficult job because the deodorizing method can be lengthy and hectic. Due to this complex approach, people tend to ignore the importance of cleaning the curtains on a regular basis. The following are a few points stating the importance of getting professional curtain deodorizing services:
Not even your busy schedule should stop you from getting the curtain deodorizing done! So, hiring experts will save you a lot of time and effort.
With experts on duty, not only do they perform the services, but also advise you on the various drawbacks and benefits of choosing a particular service.
Since the professionals are specially trained, they perform the job extremely well.
In addition to getting rid of the bad odour, professional curtain deodorizing services also aid in the removal of mould and dirt particles as well.
By hiring professionals, good-quality outcomes are guaranteed.
Here Is How We Perform The Curtain Deodorizing Services?
People often have this misconception that curtains don't get dirty as they don't come in contact with the ground. But the truth is, curtains do get dirty because of the dirt that is present in your indoor environment. So, to make your curtains clean, opt for our curtain deodorizing services. With the help of dehumidifiers as well as steam cleaners, our experts perform the services thoroughly. Using the right cleaning methods and curating effective strategies, here is how we attain the best results:
Vacuuming: Using the vacuum pump, we can get rid of even the mere dust particles that are present superficially. Thus by using an extended attachment, we perform the vacuuming effectively. And with the help of the attachment of a soft brush, we will be able to attain the best results.
Shake Them Out: Even after vacuuming, if we doubt the existence of the dirt particles, we thoroughly shake your curtains off. This is then followed by brushing.
Brushing Away The Tiny Fibers: Using rollers or brushes that are explicitly necessary to brush off the tiny fibres, our team will perform this effectively.
Steaming: In certain cases, vacuuming is not performed, then steaming comes in handy. Using professional steamers, we get rid of dirt and even stubborn stains thoroughly.
Deodorizing: Using dehumidifiers or similar tools, we perform the final step which is deodorizing.
Why Is It Necessary To Get The Curtain Deodorizing Done By Us?
By far you must have understood the importance of choosing a professional curtain deodorizing service. But do you know whom to rely on? So, to answer this question better, you need to know more about us. There are various aspects of our company that will help you in knowing us better. In case you are willing to opt for professional services, choose us! Here is why:
Personalized Services: Our experts will curate the services that are personalized for you depending on your requirements.
Decent Pricing: The prices at which we offer our services are unbelievable. Our price points are pretty decent and affordable.
Hassle-free Booking System: The bookings are open all day and night, i.e. you can appoint us 24/7.
Satisfactory Outcomes: We perform the services in such a way that our experts will make sure that we meet your expectations and get satisfactory outcomes.
Top-Rated Company: Because of all the right reasons, our company is the best and top-rated one! Our staff have Certificate III in Cleaning Operations.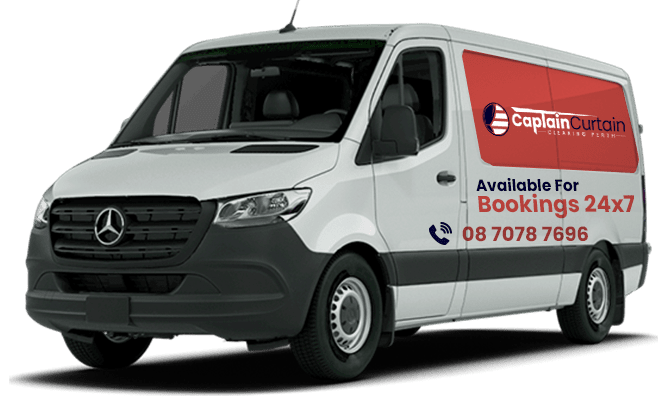 Captain Curtain Cleaning Perth
Location :-
93 Parry St, Perth, WA, 6000, Australia
Hours of Operation : Mon-Sun 6:00 AM – 9:00 PM
Costumers Rating (116)
Reviews
Pocket friendly service
Their curtain cleaning prices are pocket friendly. The service they deliver is extraordinary. I chose to do off-site curtain cleaning. The pickup and installation were very smooth. This is my go-to curtain cleaning service in Perth.
Affordable and quality cleaning
After some horrible experiences, I came across Captain Curtain Cleaning. The services are affordable for the quality they deliver. The whole process was extremely smooth. The cleaning team was extremely professional and polite. I am happy with their service.
Utmost perfection
I chosen Captain Curtain Cleaning after looking at their curtain cleaning reviews. The experts cleaned my silk curtains with utmost perfection. I will recommend their curtain cleaning services in Perth.