Get Top-Quality Services That Leave Your Curtains Fresh and Clean
Are you looking for reliable curtain cleaning Ellenbrook services? Captain curtain cleaning Perth is here to provide top quality curtain cleaning services that leave your curtains fresh and clean. Our experienced professionals use state-of-the-art equipment and eco-friendly cleaning solutions to ensure a thorough and efficient cleaning process. Dirty curtains can pose health risks by harbouring dust, allergens, and bacteria. That's why our cleaning solutions are safe for the environment, for you, and for your loved ones.
Don't let dirty curtains compromise the cleanliness and hygiene of your home or office. Contact our company today at 0870 787 696 to schedule your curtain cleaning service in Ellenbrook. Our team is flexible and will work around your schedule to ensure minimum disruption to your routine. Let us help you maintain a healthy and clean living space. Contact us today!
Professional Curtain Cleaning Ellenbrook Services Offer a Range of Advantages
Professional curtain washing services have numerous benefits that can improve the overall look and feel of your living space. Here are some of the key advantages:
Prolongs the life of curtains: Regular curtain cleaning can extend the lifespan of your curtains, keeping them in good condition for longer and saving you money in the long run.
Improved indoor air quality: Dirty curtains can harbour allergens and pollutants, which can worsen indoor air quality and affect your health. Professional cleaning can remove these particles and improve the air quality in your home.
Protects the fabric: Professional cleaning services use specialized detergents and techniques designed to protect your curtains' delicate fibres. This can help prevent damage and maintain their appearance for longer.
Removes odours: Dusting curtains can absorb unpleasant smells over time, such as cooking odours or cigarette smoke. Professional cleaning can effectively remove these odours, leaving your curtains smelling fresh and clean.
Restores colour: Over time, curtains can fade or discolour due to exposure to sunlight or other factors. Professional cleaning services can help restore the vibrancy of your curtains, making them look new again.
Saves money: By keeping your curtains in good condition, you can avoid the cost of having to replace them prematurely. This can save you significant money in the long run, making professional cleaning services a wise investment.
Overall, professional curtain cleaning services offer an efficient and effective way to maintain your home's cleanliness and hygiene while prolonging your curtains' lifespan.
Professional Curtain Cleaning Services We Offer In Ellenbrook
At (company name), we offer a range of comprehensive cleaning services for both curtains and blinds. Our services are designed to restore the appearance and hygiene of your curtains and blinds, as well as protect them from future damage. Here are some of the different services that we offer:
Dry cleaning: We use a gentle dry cleaning process that is safe for delicate fabrics and removes dust and stains effectively. Call us for perfect dry cleanings.
Steam cleaning: Our curtain steam cleaning services process uses high-pressure steam to eliminate bacteria, dust mites, and allergens from your curtains and blinds.
Mould removal: We use specialized cleaning agents to safely remove mould and mildew from curtains and blinds, leaving them fresh and clean.
Stain removal: Our stain removal service can effectively remove stubborn stains such as oil, grease, and wine, restoring the appearance of your curtains and blinds.
Rehanging: We can remove and rehang your curtains and blinds for you, saving you time and effort.
Anti-allergen treatment: Our anti-allergen treatment can help reduce the presence of allergens such as dust mites and pet dander in your curtains and blinds, providing relief for allergy sufferers.
With our professional cleaning services, you can be sure that your curtains and blinds will receive the care and attention they deserve, leaving them looking and smelling fresh and clean. Contact us today to learn more about our on-site curtain cleaning services and schedule an appointment.
We Clean All Drapes, Curtains, And Blinds
Drapes
Our professional drapery cleaning services are designed to cater to all types of drapes, including heavy or lightweight materials. Whether it's silk, velvet, or any other fabric, our team of experts uses specialized cleaning techniques to remove dirt, dust, and other pollutants. We also offer deep cleaning to remove bacteria, mould, and stains that can accumulate over time. We handle all types of drapes, including pinch pleat, tab-top, grommet, and rod pocket drapes.
Curtains
At our company, we offer comprehensive curtain cleaning services for all types of curtains, including cased heading, pencil pleat, double box pleat, linen, sheer, lace, acrylic, and eyelet curtains. We use various techniques and equipment to ensure that your curtains are cleaned thoroughly and restored to their original condition. Our team of professionals pays close attention to detail and carefully handles your curtains to ensure they do not get damaged during the cleaning process.
Blinds
We also offer professional blind cleaning services for different types of blinds, including vertical blinds, Roman blinds, and roller blinds. Our cleaning process includes using specialized cleaning solutions and equipment that is safe for all blinds. We remove dirt, dust, and other pollutants that can accumulate over time, leaving your blinds looking fresh and clean. Our experts are also skilled in handling delicate materials such as silk and can provide the best cleaning solutions for your specific type of blind.
What Makes Captain curtain cleaning Perth the Best Choice for Curtain Cleaning in Ellenbrook?
Captain curtain cleaning Perth is a trusted and reliable name in the cleaning industry, providing top-quality cleaning services to customers in Ellenbrook and the surrounding areas. Here are some of the reasons why our company is the best choice for curtain cleaning Ellenbrook:
Experienced Professionals: Our team of experienced professionals is equipped with state-of-the-art equipment and uses advanced cleaning techniques to ensure that your curtains are thoroughly cleaned and protected from future damage.
Wide Range of Services: We offer a comprehensive range of cleaning services for curtains and blinds, including dry Cleaning, steam cleaning, mould removal, stain removal, rehanging, and anti-allergen treatment.
Competitive Pricing: We offer affordable pricing for all of our washing curtains without compromising on quality. We offer transparent dry-cleaning curtains cost and provide an upfront quote before starting any work.
Convenient Service: We offer flexible scheduling and can work around your schedule to ensure our services are convenient. We also offer pickup and drop-off services for your convenience.
Eco-Friendly Cleaning Solutions: We use eco-friendly cleaning solutions that are safe for you, your family, and the environment. Our Cleaning solutions are free from harmful chemicals and toxins, making them an ideal choice for homes with children and pets.
24/7 Customer Support: We offer 24/7 customer support to ensure our customers can reach us anytime for assistance or support. Our friendly and knowledgeable team is always ready to answer your questions and address your concerns.
Reliable Team For Same day Curtain Cleaning Services In Ellenbrook And All Nearby Locations
We offer high-quality curtain cleaning services in Ellenbrook and surrounding areas, including The Vines, Aveley, Henley Brook, Upper Swan, and Brigadoon. Our experienced professionals are equipped with state-of-the-art tools and techniques to effectively clean all types of curtains, from delicate sheers to heavy drapes. Our same-day curtain cleaning services provide quick and efficient cleaning solutions to ensure your curtains are clean and fresh without any delay.
Whether you need a thorough deep clean or a quick refresh, our reliable and efficient curtain cleaning Ellenbrook services will leave your curtains looking and feeling new. Contact us today to schedule your appointment and experience the difference in our curtain cleaning services. Our staff have Certificate III in Cleaning Operations.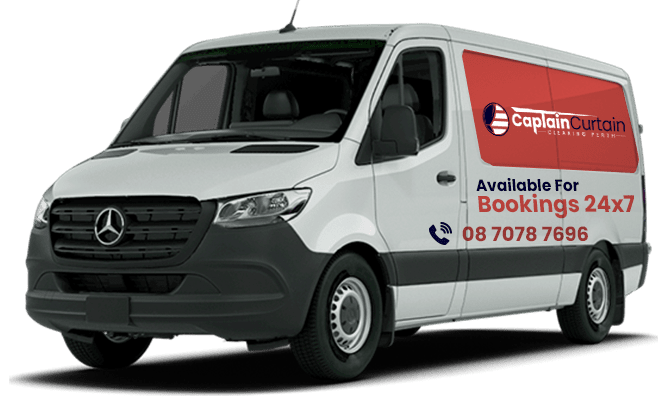 Captain Curtain Cleaning Perth
Location :-
93 Parry St, Perth, WA, 6000, Australia
Hours of Operation : Mon-Sun 6:00 AM – 9:00 PM
Costumers Rating (116)
Reviews
Pocket friendly service
Their curtain cleaning prices are pocket friendly. The service they deliver is extraordinary. I chose to do off-site curtain cleaning. The pickup and installation were very smooth. This is my go-to curtain cleaning service in Perth.
Affordable and quality cleaning
After some horrible experiences, I came across Captain Curtain Cleaning. The services are affordable for the quality they deliver. The whole process was extremely smooth. The cleaning team was extremely professional and polite. I am happy with their service.
Utmost perfection
I chosen Captain Curtain Cleaning after looking at their curtain cleaning reviews. The experts cleaned my silk curtains with utmost perfection. I will recommend their curtain cleaning services in Perth.
FAQ
How often should one get their curtains cleaned?
We recommend having your curtains professionally washed at least once a year, especially if you or anyone in your household suffers from allergies. However, if you live in a high-traffic area or have pets, you may need to have them cleaned more frequently.

Can you clean all types of curtains?
Yes, we can clean all types of curtains, including delicate fabrics such as silk and lace. Our team of professionals is experienced in handling different types of curtains and will use the appropriate cleaning method for each type.
How long does the cleaning process take?
The duration of the cleaning process depends on the size and type of curtains. However, most cleaning jobs can be completed within a few hours. We also offer same-day cleaning services for emergencies.

How much does curtain cleaning cost?
The cost of curtain cleaning depends on factors such as the size and type of curtains, the level of soiling, and the cleaning method used. We offer competitive pricing and provide a free quote for our services so you know what to expect before we begin the cleaning process.
Is your curtain cleaning service safe for children and pets?
Yes, our curtain cleaning services are safe for children and pets. We use eco-friendly cleaning products that are non-toxic and safe for use around children and pets. Additionally, our cleaning process helps remove allergens and other harmful particles from your curtains, making your home a healthier place for everyone.