Want To Get Professional Assistance In Keeping Your Roman Blinds Clean? Here It Is!
Keeping roman blinds clean is a task that requires a lot of expertise and hard work. It does take a lot of effort as cleaning roman blinds is hectic. Captain curtain cleaning Perth is the best choice for you, if you want to keep your roman blinds clean! Using the best cleaning methods, our experts will make sure to get your roman blinds cleaned. Maintaining them spotless for a longer duration is a tedious process, hence seeking our professional help will help you in more than one way. Many people might consider washing them on their own with the help of a washing machine, but this can often lead to damage. To avoid this, employ our team for attaining great results.
For acquiring more information about our services, you can contact us at 08 7078 7696. In addition to this, you can also make an appointment by contacting us at this number.
Importance Of Professional Roman Blind Cleaning
Considering the difficulty of cleaning roman blinds, it is necessary to realize the importance of getting expert services to clean them. Roman blinds last for a long time if you maintain them properly. Hence it calls for the necessity of getting professional services to clean them. Using suitable cleaning methods, our team will ensure that the roman blinds are supremely cleaned. The following are a few points that will highlight the importance of getting professional roman blind cleaning services:
By getting services from professionals, you don't have to saturate the fabric of the blinds in water for so long, as this can often lead to damage to the materials.
With the help of the most effective cleaning method, which is the extraction blind cleaning method, we perform the services.
It is better to avoid cleaning the blinds using a washing machine or getting them laundered. Thus opt for our professional services.
Getting regular and proper professional services will increase the longevity of the roman blinds to 12-15 years.
Using the right tools, our experts will perform the services with utmost care and precision.
How Do Our Experts Clean Roman Blinds To Perfection?
Using the best cleaning agents and detergents, our experts will make sure to perform the services with great perfection. Finding the best way that suits keeping your roman blinds clean is our ultimate motto. In this process, our experts will find suitable strategies and will put together a customized plan that will meet all your needs. Here is how we perform the cleaning:
Inspection: In order to get desired results, our experts will carry out an inspection. As each type of blind involves a little bit of complexity, cleaning them according to their instructions is the best way. After completion, our experts will create an inspection report.
Dusting or Wiping: Depending on the requirement, our experts will either opt for wiping off the dust or cleaning the dust with wet wipes. Since roman blinds are robust and require effort, dusting the dirt and other particles is necessary.
Cleaning: By considering all the points, our team will curate the cleaning method. This involves the usage of the right detergents and cleaning products. This is the basic step yet an important one that aids in attaining the greatest results.
Drying: Once the cleaning is done, it is our responsibility to make them dry. To keep them reasonably clean, it is necessary to get rid of all the moist content that is left.
Our cleaning services help us in getting rid of gunk as well as the dust that is gummed up on the roman blinds. Thus our services are proven to be the best ones among them all.
Why Choose Our Roman Blind Cleaning Services?
It is a good practice to opt for regular cleaning services to keep the roman blinds intact. So for this, you can rely on our services which will not only prevent the stiffening of the blinds but also help in keeping them clean. Using the best operating mechanisms which will offer great results, our experts will perform the services with great accuracy. Our employee have Certificate III in Cleaning Operations. The following are a few reasons that help best in choosing our services:
Cheaper Prices: The cleaning services that we perform are quite inexpensive and available at cheaper prices.
Suitable Procedures: In order to perform the services in the best way possible, our team will offer the services using suitable procedures. Our experts will curate the services accordingly.
End-To-End Services: In order to attain the best results, our team will perform all the services from cleaning to rehanging of the blinds.
24/7 Availability: Our customer care team is available 24/7. Thus it aids in hassle-free booking options.
Preferable Options: We have various options, among which you can choose your preferred options since our team is flexible.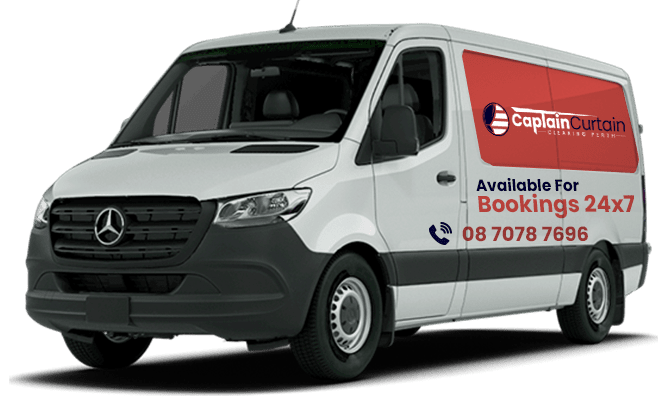 Captain Curtain Cleaning Perth
Location :-
93 Parry St, Perth, WA, 6000, Australia
Hours of Operation : Mon-Sun 6:00 AM – 9:00 PM
Costumers Rating (116)
Reviews
Pocket friendly service
Their curtain cleaning prices are pocket friendly. The service they deliver is extraordinary. I chose to do off-site curtain cleaning. The pickup and installation were very smooth. This is my go-to curtain cleaning service in Perth.
Affordable and quality cleaning
After some horrible experiences, I came across Captain Curtain Cleaning. The services are affordable for the quality they deliver. The whole process was extremely smooth. The cleaning team was extremely professional and polite. I am happy with their service.
Utmost perfection
I chosen Captain Curtain Cleaning after looking at their curtain cleaning reviews. The experts cleaned my silk curtains with utmost perfection. I will recommend their curtain cleaning services in Perth.