Splendid Curtain Cleaning South Perth Service Now At Low Rates
Curtains are in fact an important part of your indoors if you want to make your living space look beautiful with good air quality. So, if you find that your curtains are not doing this job, then it is your time to get in touch with Captain curtain cleaning Perth and their experts. Our curtain cleaning South Perth team uses modernized techniques when we are dispatched for the jobs. Moreover, we take on-site curtain cleaning service bookings if you contact us even on weekends and public holidays. Thus, feel free to ring 0870 787 696 if you have any queries to be clarified.
How Important It Is To Get Your Curtain Get Professionally Cleaned?
It never goes when you depend on a professional curtain cleaning South Perth team of experts when you are in need of extra help. In fact, we listed out five benefits you get on making your curtains get cleaned professionally and regularly.
Regain Appearance: One of the best things curtain cleaners can help you with is regaining curtain appearance. Hence, whenever you plan to regain the appearance of your curtains, count on experts then.
Reduce Allergies: Once professional curtain cleaning experts get into the business of deep curtain cleaning, they help reduce allergies. Therefore, you are no more under the threat of respiratory problems such as asthma and allergic reactions.
Removes Dirt: Like any other fabrics in your home, curtains also collect dirt but experts help in making them dirt-free. Thus, if your curtain is suffering from dirt particles front and back with no resistance, experts make them gain resistance.
Combats Mildew: Professionals never fail to address the importance of mildew removal and thus they combat mildew when needed. So, counting on professionals in these times can avoid your curtains from building up of mildew.
Reduce Tear And Wear: Premature tear and wear can happen if you neglect your curtain's regular cleaning and this in turn causes a negative impact. But when you look for experts at this time, then they help in reducing tear and wear.
A List Of Amazing-Resulting Curtain Cleaning Services We Provide
Yes, we do not suffice our clients of South Perth with just availing of our one or two services and thus provide them with a list of all of our services. A few of those professional curtain cleaning services are here. Our curtain cleaning cost is minimal too.
Curtain Dry Cleaning Service
One of the ideal curtain cleaning South Perth methods we adopt to make your untidy curtains back to their prettier look is dry cleaning. As we are equipped with the best and most sophisticated equipment like dry cleaning machines, your curtains shine in no time. So, if you are in search of "curtain cleaning near me" for low dry cleaning curtains cost service, contact us immediately.
Curtain Steam Cleaning Service
We have a curtain steam cleaning services team that provides you with the best deal for this service and kills even germs embedded in between fibres. Thus, you can rest assured that in our single attempt at the curtain steam cleaning process, even respiratory illnesses decrease. Therefore, take our help in dusting curtains microbe-free and the follow-up will be your joyful days.
Curtain Mould Removal Service
Not all curtains can be washed using washing machines for mould removal and this is when you can grab our mould removal service. To provide curtain mould removal service, we use mild and pH-neutral cleaning agents as they are kid-friendly too. In fact, by letting us work for your curtain mould removal, your curtain becomes completely free of different mould types.
Curtain Stain Removal Service
When a client from South Perth counts on us for availing of our curtain stain removal service, we do not hesitate to meet their needs. In fact, not just meeting our client's needs by providing top-quality services is our priority but also satisfying them at the same time. Hence, if you are looking for an accredited company in South Perth that satisfies all your needs with curtain stain removal, then call us.
Curtain Rehanging Service
In addition to cleaning your curtains accordingly, we take a rehanging job as our responsibility and do the same in your properties. Therefore, you are free of pre and post-duties of curtain cleaning services as we also provide curtain rehanging service. Also, you can be worry-free that we have expertise in handling all kinds of curtains and rehanging them with care.
Curtain Anti-Allergen Treatment
One of the most affordable services we offer to our South Perth clients is effective and satisfying curtain anti-allergen treatment on time. So, avoid the thoughts of reinvesting in purchasing new curtains by replacing your old ones. However, if you want to know more details about our curtain anti-allergen treatment, you are free to contact us any time of the day.
We Have Expertise In Cleaning A Wide Range Of Drapes, Curtains & Blinds
If there is no regular cleaning given to your curtains, then they tend to not just fade away their colour but also lose their lustre over time. So, once you find our suggestion reasonable, immediately contact our curtain cleaning South Perth team to help you out. Because we clean various curtain cleaning types like:
Sheer curtains
Box pleat curtains
Grommet curtains
Pencil pleat curtains
Rod pocket curtains
Panel pair curtains
Single-panel curtains and
Linen curtains.
There are different drape types we clean when clients from all the regions of South Perth come looking for us and book our experts. In fact, we have expertise in enhancing the overall look of your drapes from dull and dingy to bright and beautiful. So, come looking for us to clean the below drapes,
Goblet pleat drapes
Pencil pleat drapes
Tuxedo pleated drapes
Cartridge pleat drapes
Box pleated drapes
Rod pocket drapes
Back tap drapes
Grommet drapes and many more.
Searching in the market around your region, you can find that there are multiple blind types and in the same way there are also cleaning services for them. However, if you are confused about these things and do not know what to decide on, we listed a few such blind types we clean.
Roller blinds
Vertical blinds
Panel blinds
Roman blinds
Illusion blinds
Faux wooden blinds
Metal Venetian blinds
Wooden blinds and the list goes on.
How We Gain Our Fame In The Industry For Curtain Cleaning Service?
Well, it was not an easy feat for us to reach the no.1 position in the curtain cleaning industry of South Perth but there are a few reasons why we made it possible. In addition to us being local experts, skilled hands and taking low curtain cleaning prices, we offer the following benefits to our clients:
Experienced Cleaners: Every cleaner of our curtain cleaning South Perth team has years of experience on one hand and certificates on the other. In fact, with experience, we gained unparalleled knowledge on how to customise a cleaning method.
Accredited Company: As we are one of the accredited companies in South Perth, we know how to handle all the curtain problems. In addition to accreditation, we gained a legal license and certification from the IICRC of Australia.
Multiple Services: With professionals like us, you can contact us to get multiple services at once. For suppose, you can schedule an appointment with us for stain removal and mould removal services on a single call.
Monday To Sunday Bookings: In order to be available for all the South Perth for curtain cleaning bookings, we work Monday to Sunday. This benefit goes throughout the year when our experts work on rotation shifts.
Implement Customised Methods: We have been well-trained on how to customise a curtain cleaning method on stop and implement to see results. Also, we involve advanced technology in curtain cleaning method implementation.
We Are Your Trustworthy Team For Availing Of Curtain Cleaning Services In & Nearby South Perth
In addition to South Perth, our curtain cleaning South Perth services are available for its nearby areas too at the same pricing. Some of our most-frequenting nearby areas of South Perth are Como, Victoria Park, Applecross, Waterford, Kensington, etc. In addition to this, our local curtain cleaners also travel to Karawara, Manning, Salter Point, Collie and Busselton to serve them. So, hurry up to book our team if you are in need of top-quality service at the local expert's hands. We ate always open for bookings and even encourage our customer care team in clarifying client enquiries. Our team have Certificate III in Cleaning Operations.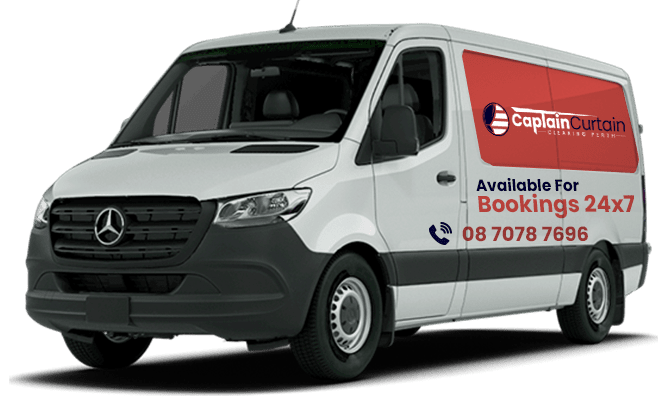 Captain Curtain Cleaning Perth
Location :-
93 Parry St, Perth, WA, 6000, Australia
Hours of Operation : Mon-Sun 6:00 AM – 9:00 PM
Costumers Rating (116)
Reviews
Pocket friendly service
Their curtain cleaning prices are pocket friendly. The service they deliver is extraordinary. I chose to do off-site curtain cleaning. The pickup and installation were very smooth. This is my go-to curtain cleaning service in Perth.
Affordable and quality cleaning
After some horrible experiences, I came across Captain Curtain Cleaning. The services are affordable for the quality they deliver. The whole process was extremely smooth. The cleaning team was extremely professional and polite. I am happy with their service.
Utmost perfection
I chosen Captain Curtain Cleaning after looking at their curtain cleaning reviews. The experts cleaned my silk curtains with utmost perfection. I will recommend their curtain cleaning services in Perth.
FAQ
How long do I need to wait for the completion of curtain steam cleaning services?
Generally, it takes about 2 to 3 hours to complete curtain steam cleaning services. But the time also varies depending upon the curtain type and how much dirt, stains, mould and odours it has accumulated.
If I want a free quote how long do I need to avail of the service for my South Perth curtains?
When a client from South Perth comes to us for availing a free quote from us, we reach out to them as soon as possible. So, you can make an appointment with us for an obligation-free quote via call or by filling out the form.
If I request for your experts to clean curtains while hanging, will they accept my request?
Yes, we do accept your request to clean curtains while hanging as it is also a part of our benefit offering our clients. So, be rest assured!
Can I book your drapes cleaning services on a quarterly basis?
Yes, you can our drapes cleaning services on a quarterly basis as we are open to avail of such offers for every client in and nearby South Perth. However, the drapery cleaning cost varies on various factors after inspecting your drapes.
Can I avail of a curtain washing service in addition to a dry cleaning service?
Yes, you can avail of our curtain washing service in addition to the dry cleaning service. But the curtain cleaning prices will be varied.