Curtain Cleaning Prices in Perth
At Captain Curtain Cleaning, we aim to provide the best services at an affordable price. Our curtain cleaning price is reasonable and pocket friendly. But that doesn't mean we compromise with our service quality. Our certified curtain cleaners in giving satisfactory results.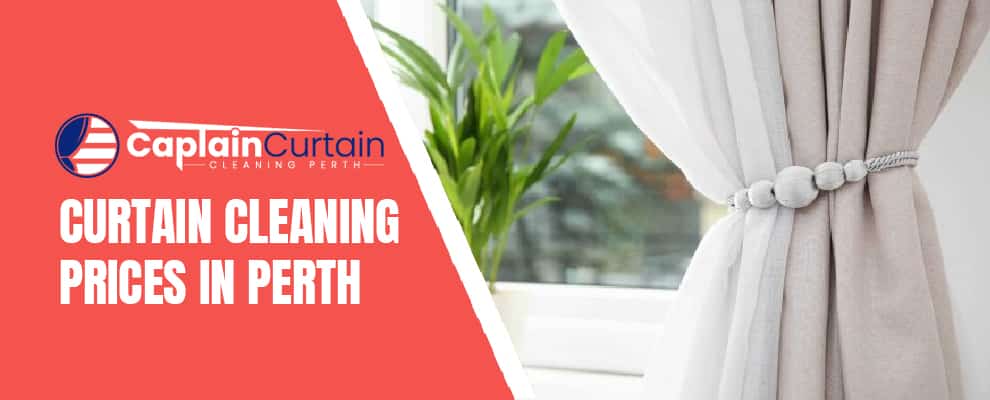 Below is our curtain cleaning price list to give you a brief idea:-
Curtain steam cleaning cost
Curtain steam cleaning is a popular method to deep clean the curtains. Firstly, steam cleaning makes your curtains fresh, and odourless and looks as good as new. And the range of curtain cleaning prices Perth services is around $100-$220 depending on the number of curtains and fabric.
Curtain dry cleaning cost
Curtain dry cleaning is an effective process when dealing with heavy soil and stains. The process includes washing and treating with chemicals to make your curtains stainless. Curtain washing price and dry cleaning cost around $120- $240 depending on the number of curtains.
Onsite curtain cleaning cost
Our experts have expertise in cleaning curtains onsite with minimum distractions and discomfort. The onsite curtain cleaning price ranges from $70-200$ per curtain. It also depends on how many curtains you need to get cleaned.
Off-Site curtain cleaning cost
Some customers don't like the hassle of getting their curtains cleaned at home. Don't worry we got you covered. Our team can clean the curtains offsite with the same satisfaction and results. The price range of offsite curtain cleaning per curtain can range from $100-$250 each.
Factors Affecting The Price of Curtain Cleaning
Curtains are an important part of our homes. And they keep the inside of our house clean from outside dirt, dust, bacteria, allergens and sunlight. Therefore, they can be a health hazard if not cleaned regularly. Some factors affecting curtain cleaning price are:-
This is very simple. The more the number of curtains, the cheaper per curtain cleaning cost. Hence, if you opt-in for a bulk cleaning, the drapes cleaning price will considerably reduce.
The fabric of the curtains
There is a vast variety of fabrics when it comes to curtains. And different fabric needs to be treated and cleaned with different techniques. For example, cotton fabric curtains are much cheaper to clean than silk or chiffon curtains. As these need extra care and different washing techniques.
If the cleaning is on-site or off-site
Cleaning onsite is cheaper as it eliminates the transport costs. Hence, you can choose among them at your convenience.
Type of curtain cleaning method
There are various types of curtain cleaning methods. This includes curtain dry cleaning, curtain steam cleaning, curtain mould and odour removal and many more. Hence, prices depend on the type of method you choose.
The location of your property
The location also contributes to the curtain cleaning prices. The type of suburb you are living in matters. As the transportation cost depends on that. Therefore, all these factors comprise the overall curtain cleaning quote.
Is Drape Steam Cleaning More Expensive Than Dry Cleaning?
Steam cleaning for curtains and drapes is a popular but expensive procedure. This is because of the heavy equipment used to perform this method. Our company uses an advanced steam cleaner that will not degrade the quality of your curtains. And will deep clean the curtains perfectly. Whereas dry cleaning is a time-saving method of curtain cleaning. Firstly, chemicals are used to clean the curtains. We do not wet the curtains. Hence, the drying time involved in steam cleaning is saved. Therefore, steam cleaning for drapes is more expensive than the dry cleaning method. But both methods are equally reliable and give amazing cleaning results. It will help you get rid of stains, dust accumulated and other problems like mould growth. Call us today to book your quick quote.
Hire Our Professionals From Captain Curtain Cleaning And Save Costs On Curtain Cleaning In Perth
Are you in search of affordable curtain cleaning services in Perth? Captain Curtain Cleaning is the one-stop destination for all curtain cleaning problems. Whether you have stains on your curtains or mould developed, we can treat them all. Moreover, all these benefits come at affordable curtain cleaning Perth prices. Therefore, save costs for your curtain cleaning service. Hire us today for the best quality services near you in Perth. Our staff have Certificate III in Cleaning Operations.